About LCD
Law College Dehradun, as a flagship institution of Uttaranchal University under the aegis of Sushila Devi Centre for Professional Studies and Research, was established as the first independent Law College of Uttarakhand. The college was the visionary project of Shri Jitender Joshi, the then Chairman of the college and presently the Chancellor of Uttaranchal University along with his plenipotentiaries from across the academic spectrum. Within a short span of time, the college registered its reckoning presence and became one of the most sought after destination in the field of legal education. The college which was initially affiliated to Hemwati Nandan Bahuguna Garhwal Central University became a top-spot, producing a series of Gold Medalists and University Merit Holders. As luck would have it, Law College Dehradun along-with its sister concerns Uttaranchal Institute of Technology and Uttaranchal Institute of Management reached its practical zenith through their merger in the form of Uttaranchal University in 2013 with the passing of Uttaranchal University Act, 2012.
Law College Dehradun inhabiting more than 1800 students on its roll is in fact, reflective of Indian Diaspora as its composition resonates the voices of almost all the states of India. The college as a lex matrix and an institutional paragon provides complete legal education under a single roof which includes five year BA. LL.B. (Hons.) & BBA.LL.B. (Hons.), LL.B. (Hons.), LL.M. and Doctoral Programme in Law. Moreover, our Centre for Post Graduate Legal Studies constantly focuses on fostering inquisitive spirit and platonic-cum-epistemological quest among our post graduate students as well as research scholars. This confluence reflects a symphony of our institutional infrastructure, flexible academic curriculum, disciplinarian paraphernalia, socio-cultural objectives, academic-corporate interface and potential inducements for society centric academic researches and practices.
Placements do constitute a significant component of professional educational institutions. As a natural corollary, in collaboration with reputed legal firms, the college provides placement assistance to the students interested in corporate sectors. However, our focus remains on preparing the students for judicial and civil services as well as advocacy in courts by providing them a congenial academic environment. The testimony of the fact is that 50 students and faculties securing top positions in various provincial judicial services are serving as distinguished judges in various courts of India which may be observed at the website of the university. Most of our alumni are serving as successful lawyers in the District Courts, High Courts as well as Supreme Court of India.
An institution bereft of socio-economic and cultural objectives is barren and unproductive. Keeping the fact in mind, the college boasts certain societies like Debating Society, Youth Parliament Society, Moot Court Society and Legal Aid Centre which propels students towards professional achievements and welfare oriented objectives. Our research programmes too reflect the same value preference. Also, it is our motto to mobilize and channelize the tremendous energy of our young students in a creative direction leading to creation of a creative talent pool assimilating their full potential to benefit the society in particular and humanity in general.
Every institution boasts a vision and we are not an exception. Right from the beginning, we strenuously endeavored to metamorphose Law College Dehradun into a world-class institution imparting legal education accompanying a well cherished dream of becoming an institution of excellence across the globe producing legal professionals with humanitarian propensity.
Visitor's Testimonial
"Don't leave inferences to be drawn when evidence can be presented." -Richard Wright
Law College Dehradun endeavours to provide an educational environment wherein students can realize their full potential in their chosen discipline and achieve their tangible goals. Intending to accelerate the realization of this overarching vision the college organizes a series of events on a regular basis. This includes: Lecture Series by Legal luminaries, Seminars, Conferences, Workshops, Legal Awareness Camps, National Debate Competitions, National Moot Court Competitions, MUNs, Youth Parliaments, Mega Blood Donation Camps, to name a few. These occasions are inspired by the gracious presence of renowned personalities from varied domains. Our visitors list is inclusive of:
Legal luminaries – Judges from Apex Courts in India and abroad, Professors, Subject Experts and Senior Advocates
Industrialists & Entrepreneurs – Law Firms, Corporate Entities
Bureaucrats – Government officials from different departments
Legislatures – Ministers, MPs and MLAs
Environmentalists
Our Visitors Log encompasses explicit testimony of our guests which succinctly quantifies our commitment towards the society.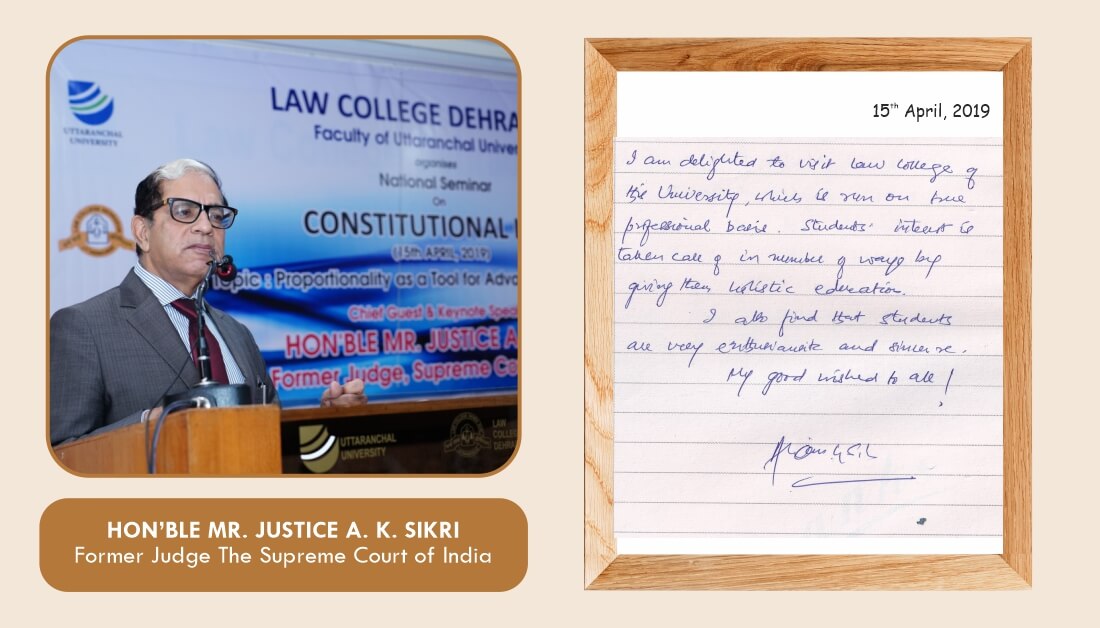 Our Recruiters