About Uttaranchal School of Hotel & Hospitality Management
Hotel and Catering is one of the largest industries employing lakhs of people.  Holidaymakers, business travellers, overseas tourists, visitors to theme parks and leisure centres, weekend breakers, all travel away from home and create demand for food, accommodation, and hospitality.  Industrial Catering, Fast Food Centres, Theme Restaurants Clubs, Catering & Hotel Management Establishment, Self-Entrepreneurship, and Off Shore Catering in food products are other sectors in the Catering Industry which cover such large operations as health and education and airline and cruises operations.
Uttaranchal University, Dehradun has a dedicated full-fledged Hotel Management Department which aims to impart quality training through the courses offered i.e.: BHMCT, B.Sc. (Hotel & Hospitality Administration), Master Of Hotel Management, One Year Certificate Course In Hotel Management And Certificate Course In Art of Bartending.
Career Opportunities:
The global growth and development of tourism have opened up innumerable avenues for employment. As a result, the graduating students can look forward to career opportunities as;
•Management Trainee in Hotel and allied Hospitality Industry;
Kitchen Management/Housekeeping Management positions in Hotels after an initial stint as Trainee;
• Flight Kitchens and on-board Flight Services;
• Indian Navy Hospitality Services;
• Guest/Customer Relation Executive in Hotel and other Service Sectors;
• Management Trainee/Executive in international and national Fast Food Chains;
• Hospital and Institutional Catering;
• Faculty in Hotel Management/Food Craft Institutes;
• Shipping and Cruise lines;
• Marketing/Sales Executive in Hotel and other Service Sectors;
• State Tourism Development Corporations;
• Resort Management;
• Self-employment through entrepreneurship, and
• Multinational Companies for their hospitality services.
About 80% of the graduates are employed by Hospitality and other service sectors through on-campus and off-campus recruitment processes.
Vision and Mission
Vision
To become the centre of excellence in learning & training as per the global industry standards & achieve the leadership status of largest skilled human resource provider to the hospitality Industry thereby contributing to the progress of the nation.
To develop a cosmopolitan perspective in the students to be able to compete globally.
To train the students with focus on practical base student centric pedagogy.
To encourage research in the domain of tourism & hospitality.
To develop academic-industry interface to bridge the gap between industry & academics.
To develop the best infrastructure in terms of equipments to ensure firsthand exposure to the current best practices of the Industry.
To develop comprehensive skill set of young learners making them lifelong employable.
To develop ethical values & overall personality of the students.
Develop soft skills for higher level of employability.
Director's Welcome Note
Hotel Management is a glamorous & multidisciplinary field, which is inclusive in nature, covering fields such as food production, food and beverage service, hospitality management, event management and room division. The Faculty seeks to provide students with the most elevating training and fostering the essential understanding of various traits of hotel management. Through its well designed comprehensive curriculum enriched with the inputs from Industry it creates an enriching exposure which allows students to develop not only the theoretical principles but also the practical understanding of the domain. With the growing scope of tourism, students have been exposed to the new trends and digital practices related to this field. As a way of providing this practical knowledge, the Faculty is equipped with state of the art laboratories and facilities which work towards imparting the most essential elements of hotel management and catering to the students. The team of faculty members at Uttaranchal School of Hospitality & Hotel Management strives to shape the management, analytical and technical skills within every student to nurture their mannerisms and professional ethics which are essentially required in this field. In addition to this, the faculty provides an extensive hands-on training through which the students get an exposure to numerous aspects of the industry. So, take the first step towards a vibrant journey in Hotel Management and shape your bright career today.
Manish Badoni
Distinguished Faculty Members
Manish Badoni
Assistant Professor
Hitendra Singh Chauhan
Assistant Professor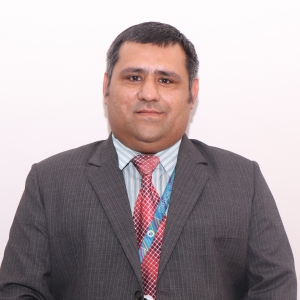 Bikky Singh Panwar
Assistant Professor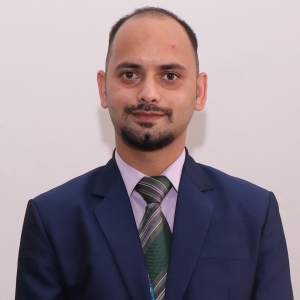 Abhishek Negi
Assistant Professor
Surendra Singh Bhakuni
Asisstant Professor
Infrastructure
Owing to the rapid growth of the hospitality industry in India, there is an increasing demand for trained and competent professionals within the industry. Hotel Management has access to the best and well-established infrastructure for the development and motivation of students, teachers, and would-be professionals. All the labs are well equipped for teaching and learning core and specialized curriculum.
We have the following fully equipped laboratories for Bachelors Program:
Training Kitchen ('Ambrosia')
Our Training Kitchen 'Ambrosia' comprises of all the latest equipments needed to facilitate training required for future chefs. It aids in imparting training for varied cuisines.
Training Restaurant ('Rendezvous')
The department has got an elegant, spacious, formal, fine dining restaurant 'Rendezvous' which can sit approximately 30 pax for a meal. The Training Kitchen 'Ambrosia' provides for the menu to be served here.
'Rendezvous' also houses a beautiful Bar Setup which is used to train students in Cocktails and Mocktail Making and Food & Beverage services.
Front Office Lab
The department entrance is beautifully designed in the form of a Hotel Reception Counter to give practical exposure to working in the Front Office Department of a Hotel. The Reception Counter is equipped with all the requisites like Computer, Telephone, Printing Machine, World Clocks, to name a few.
Housekeeping Lab
The Housekeeping Department uses one Guest Suite of the University Guest House as its Housekeeping Lab. It has a modern laundry fitted with latest equipments. This suite, measuring to the standards of a five star hotel, is available to give students the practical exposure of Hotel Housekeeping.
Top Recruiters