Foreign National students willing to study at Uttaranchal University in various programmes would be required to fulfill all the application formalities [as may be applicable]. This would include eligibility requirements for the chosen Programme.
Proficiency in English Language
The medium of teaching at Uttaranchal University is English language and it is desirable that students have completed their higher secondary education through the medium of English or had English as one of the main subjects. International students are required to furnish English language proficiency proof, such as Score Card of International English Language Testing System (IELTS). The Score Card should not be of earlier than two years and should fulfill the minimum requirement of 5 bands for undergraduate level and 5.5 bands for graduate level (mandatory).
Admission Application Procedure
Foreign National student's application is to be submitted, either online, on www.uttaranchaluniversity.ac.in along with relevant scanned documents or on prescribed application form along with photocopies of relevant documents at our specified Uttaranchal University offices in your country 'or' to be sent to International Admission Office, Uttaranchal University, Premnagar, Dehradun( pin code 248007), India.
Application fee for admission is twenty five US Dollar [$200].
Confirmation of your admission will be subject to verification of eligibility criteria as per the documents submitted by you.
Upon fulfilling all admission requirements within 1 week [approx. 7 working days] 'or' earlier as the situation may require, foreign national student will receive the intimation of his / her admission, unless any other requirement arises.
It is mandatory to have a valid visa to study at Uttaranchal University, Dehradun. The visa must be endorsed for study purposes; specifically at Uttaranchal University Dehradun, (India).
To apply for visa to study at Uttaranchal University an applicant requires a confirmation of admission [unconditional] letter from Uttaranchal University, DehraDun.
Students pursuing any course, longer than 180 days [approx. 6 Months] at Uttaranchal University are required to register at Foreigners Regional Registration Office [FRRO] / Foreigners Registration Office [FRO] within 14 days of their arrival in India.
Information Related To FRRO / FRO
It is mandatory that within the stipulated timeframe of arrival in India, the student has to register his/ her name with the police in the designated Foreigners Regional Registration Office [FRRO] / Foreigners Registration Office [FRO].
Mandatory Documents Requirement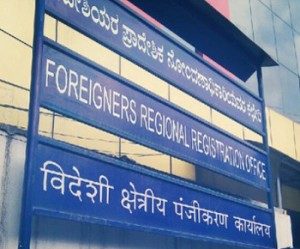 Application Forms – 4 [Four] Copies.
4 [Four] Photographs.
2 [Two] Set of Passport Photocopies – First Page [Photo Page], Visa Page [Visa Sticker Page], Arrival Stamp Page [Immigration Check Pass Page], Last Page [Address Page].
Proof of Residence in India [Rent Agreement / Hostel Letter]
Admission Confirmation Letter [Bona Fide Certificate from Uttaranchal University].
 Bank Statement with proof of sufficient funds available to sustain the student during his/her studies In India.

Click for Details – FRRO Website